Meet Cristian Zamarripa
By: Chelsea Thorn
Friday April 16, 2015
Cristian Zamarripa is a soon-to-be graduate of Florida State University studying Information, Communication and Technology. He believes it is just as important to learn outside of the classroom as it is inside, and shares his time as an Intern for BRIGHT RED/TBWA, a teaching assistant for FSU Principles of Advertising course, as well as a Strategist and Use Experience Researcher for the FSU Arrowhead Advertising Team. Even through all of these great endeavors, Cristian still felt the need to spend time doing outreach for the community. That's when he found the Florida IT Career Alliance.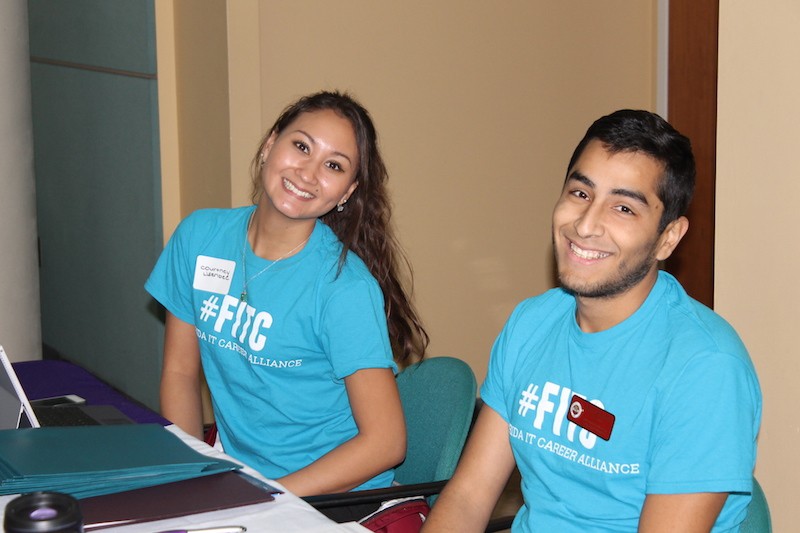 Cristian joined FITC as a Student Ambassador in Fall 2014. After having received such positive mentorship within his major and career experiences, he felt that he should pass along his acquired knowledge to other students about finding the right career path. To him, there's nothing better than creating a positive impact on a student's life and to help them pursue their dreams. "FITC is the bridge that connects students to technology education.", says Cristian. "Many students are unaware of their capabilities within the technology field and therefore never plan on pursuing a technology degree. Thanks to FITC, students gain insight on the endless possibilities a technology education can offer them."
After Cristian graduates in a few short weeks, he plans on moving to New York City to work at Grey Advertising Agency. His ultimate career goal is to rule the advertising industry, either as a Search (SEO) or Website Analyst. He loves the process of turning numbers into stories. To learn more about Cristian, connect with him on LinkedIn or Twitter.
FITC Student Ambassadors make up a team of dedicated and knowledgeable students both at FSU and FAMU. These students travel across the Florida Panhandle to promote information technology, computer science, and computer engineering to high schools. Ambassadors are responsible for activities such as running coding camps, assisting in technology clubs, or hosting college tours. For more information on FITC Ambassadors, visit the Ambassador page.
The Florida IT Career Alliance is an initiative funded by the Florida Board of Governors which aims to recruit, retain, and employ Florida's next generation technology workforce. FITC promotes information technology, computer science, and computer engineering to local high schools and college students across Florida. Connect with FITC on Facebook, Twitter, and LinkedIn.