Meet Joey Cardenas
By: Chelsea Thorn
Friday March 20, 2015
Joey Cardenas is a sophomore at Florida State University studying Information Technology. When he's not in class, he's working at the FSU College of Communication Help Desk or volunteering at The Children's Campaign. When Joey learned about the Florida IT Career Alliance, he knew he had to join the team as a Student Ambassador. He's passionate about educating high school students on the importance of preparing for all aspects of college, including resume building, joining clubs, and options for affording college.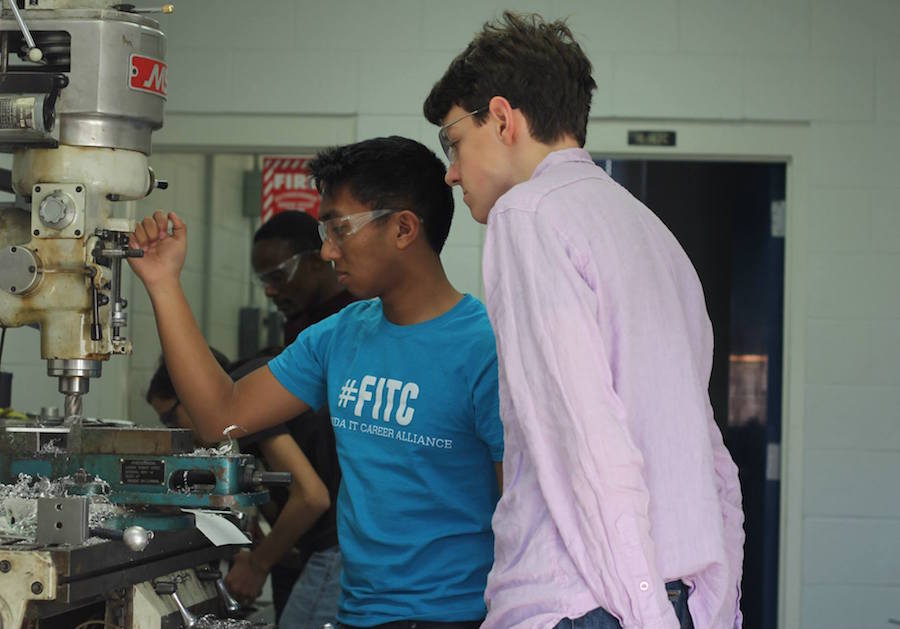 In Spring of 2015, Joey officially joined the FITC team as a Student Ambassador. As an Ambassador, Joey's favorite activities always involve school outreach. His weekly visits to SAIL High School's robotics program are the highlight of his FITC experience. For him, seeing passion, determination and expertise in a high school group is a joy to watch. Being able to help these students accomplish their goals makes visits to SAIL priceless. In addition to helping the robotics team, Octo-Pi-Rates, with competition preparation, he also teaches students about digital media. Whether he's wearing his FITC uniform or not, he wants to be available to high school students to help them realize their college goals. He strongly believes that a college education is invaluable, especially obtaining a degree in technology.
Joey believes that the importance of FITC comes in the form of awareness. FITC exposes opportunities in technology for high school students that they may have never been exposed to otherwise. The Ambassadors use their own personal successes and experiences to motivate students to pursue technology fields for themselves.
"The Florida IT Career Alliance is important because it exposes high school students to all of the opportunities granted in a technology field, as well as providing these students with direct access to college students studying technology."
Joey plans to graduate from FSU in Spring of 2017 with Honors, then go to work in the computer industry as a Systems Analyst. His ultimate career goal is to be a Project Manager in a top tech company. To learn more about Joey, connect with him on LinkedIn or Twitter.
FITC Student Ambassadors make up a team of dedicated and knowledgeable students both at FSU and FAMU. These students travel across the Florida Panhandle to promote information technology, computer science, and computer engineering to high schools. Ambassadors are responsible for activities such as running coding camps, assisting in technology clubs, or hosting college tours. For more information on FITC Ambassadors, visit the Ambassador page.
The Florida IT Career Alliance is an initiative funded by the Florida Board of Governors which aims to recruit, retain, and employ Florida's next generation technology workforce. FITC promotes information technology, computer science, and computer engineering to local high schools and college students across Florida. Connect with FITC on Facebook, Twitter, and LinkedIn.